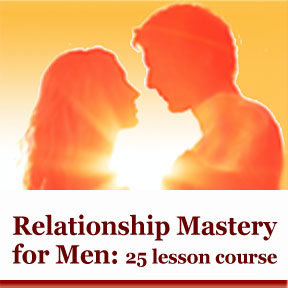 The following is an excerpt from Lesson #7 of the Relationship Mastery for Men Home Study Course: 25 Lessons on How to Get a Woman to Like You, Love You and Want You. To get the full lesson, please subscribe to the course lessons.
Lesson #7: Two Keys to Great Relationships with Women
Are you getting nowhere fast with the women in your life?
Are you single and keep having "meet-and-greet" first dates, or if you are lucky, perhaps second and third dates, but nothing that leads to more? Or are you in a relationship, and does your girlfriend or wife seem unhappy and unsatisfied with most of the things you do?
In this lesson you will learn about the two key shifts you need to make that will change your relationships with women. You will learn what it will take for you to get women to like you, so that you can get that second, third, or beyond date, or so your girlfriend or wife feels happy and satisfied with you.
None of what you are about to learn contains tricks or manipulation, nor will it be excessively hard. What I am about to tell you are shifts that men do not typically understand are a necessity to make in order to have great relationships with women.
Want to get this lesson and the other lessons in the course? Sign up to get the course lessons here.