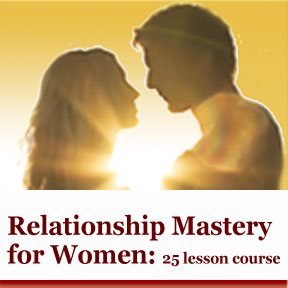 The following is an excerpt from Lesson #7 of the Relationship Mastery for Women Home Study Course: 25 Lessons on What Women Don't Know About Themselves and Their Relationships with Men. To get the full lesson, please subscribe to the course lessons.
Lesson #7: Your Four Hidden Relationship Superpowers
Do you know that women matter to men? They do, and much more than men would like to admit, and much, much more than women realize!
This is why men often walk on eggshells around women, don't share their feelings and thoughts, or try to make it look like they don't care that much. These are all ways to protect themselves from how much women matter to them.
Here's also how you will know this is true. Notice that some of the greatest works of art and most songs written by men are often about women. Although many of these are sexual in nature, many are not. Most speak of a longing for a deeper connection with women. This longing is true for most men, even if they themselves are not aware of it.
Of course, if we are talking about an abusive man, or a man out of control, no woman, no other human will matter much to him. But when we are talking about average men, from teens to senior citizens, women matter very much.
Because women matter to men, women have power over men. Actually, women have four hidden relationship superpowers!
Now let's take a look at your superpowers…
Want to find out what your superpowers are? Get the rest of this lesson and the other lessons in the course by signing up to get the course lessons here or in the box on your right.