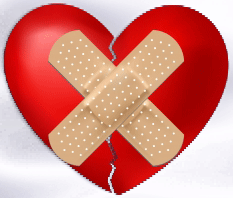 A client reached out to me recently asking for help for her friend. She told me her friend has gone through a breakup and is having trouble letting go and moving on. She asked if I had any advice to give that would make it easier.
In response to this request for help I pulled together a collection of 5 articles to help stop the hurt from a breakup or divorce, successfully let go of the past partner, and move on.
Even if you are not going through a breakup or divorce these articles will help you:
Let go of lingering feelings for an old partner
Gain insight into your current relationship and how to make it better
Know how to help others who are going through a break up or divorce
1. The 3-Step Process to Fast, Full Recovery from a Breakup or Divorce
Learn the 3 step process to getting over your breakup or divorce fully in less time. The process is based on a scientifically validated grief recovery model and when followed closely can provide nearly complete relief from breakup pain.
2. How to Let Go of a Relationship When You Don't Want To
The ending of a relationship or marriage is particularly hard when you do not want it to end. In this article you will answer 8 questions that make letting go of the past relationship easier.
3. The 6 Things You Need to Know in Order to Let Your Ex Go
Some relationships feel as if they were meant to be, as if you were with your soul mate and had lost him or her. The feeling for this person may linger on, even after you enter a new relationship. In this article you will understand the 6 reasons why you still hold on to that relationship and find 6 steps to help you move on.
4. 10 Steps to Speed Recovery from a Divorce or Breakup
Recovery from divorce or the end of a significant relationship can be a difficult, painful road. In this article I give you 10 steps to take that will help you heal deeply and completely.
5. Letting Go of an Ex: Client Story
Often even when you have worked through most of the feelings of ending a relationship, you will feel residual sadness about it. You may also feel a lack of energy and lack of desire to get out and try to meet the right partner for you. In this article I show you how to shift the 3 ideas that hold these feelings in place, so that you can completely let go and open to the possibility of meeting a new partner.
Share these articles with friends and family going through the pain of a relationship ending to give them access to relief. And as always, let me know what you think.