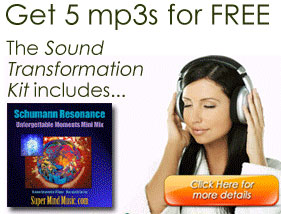 How about something easy, fast and free that makes your heart feel better? I want to tell you about a wonderful music website I have discovered and give you a link to try their music free.
When I first went to the website below and got their free kit, I got two MP3 tracks. One of the free tracks, Sacred Love, blew me away! If you listen to it with headphones, it's designed to impact your heart. Music that heals your heart!
When I listened to the Sacred Love track in the kit I was feeling a little weary, even sad, from a long stressful day. Within about a minute of starting to listen to the track I felt my heart open and I started to feel happy. This was not the kind of happy you feel when you hear a good tune. This was different – my heart felt happy! I listened to the second track of music the next day, and it made me feel open, vast, strong, capable.
I cannot begin to explain the science of how this music can impact emotions, but I can't encourage you strongly enough to go get it and try it for yourself. It is free to try and thankfully they don't spam you with too much email after you get the free kit.
[stextbox id="info"]Here's the link to the free kit with Sacred Love track in it.[/stextbox]
After I listened to the free tracks I went and purchased about $55 worth of music from their site.
Below is a list of the albums I purchased, in case you are curious. Go to the link above and after you get your demo kit, type these titles into the search box to see what each one is and hear samples from each album:
Schumann Resonance: Unforgettable Moments
Dream Maker: Chillout Groove
Eternal Love: Nickie Hart
The Awakening: Mind Over Matter
Heartbeat of Gaia Core Connection: Christopher Xiao
Heartbeat of Gaia: Schumann Resonance: Christopher Xiao
Really, go check out this music. It will not only please your ears, it will make you feel good on a deep and profound level, every time you listen!