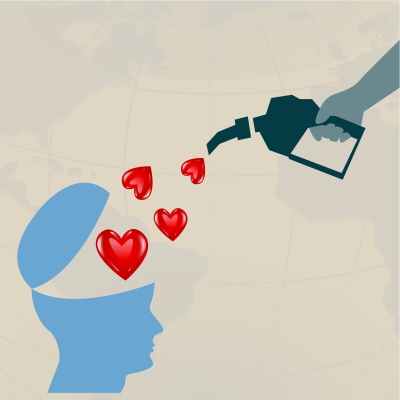 Does Valentine's Day evoke negative feelings for you?
Many men feel that Valentine's Day is "her" day, fraught with hazards, as they are expected to come up with the perfect romantic evening to satisfy the woman they are with.
Both men and women in long-term relationships or marriages often resent the massive commercialization around Valentine's Day. They bemoan being forced to show affection to their partner on this day in a commercially prescribed manner.
New couples fret over what to do for each other on Valentine's Day that is enough, but not too much, so as not to send the wrong message to their new partner.
This is saying nothing about couples who are not doing well in their relationship, for whom Valentine's Day can be a minefield of disappointment and hurt.
On the other hand, singles will sometimes celebrate S.A.D., Single's Awareness Day, instead of Valentine's Day. Nothing good can come from a holiday labeled as sad!
Finally, men and women who are just going through a break up or divorce often try to ignore or can't wait until Valentine's Day is over, so that they can stop being reminded of what they have lost.
Does anyone enjoy Valentine's Day?
Actually, yes, and you can as well, regardless of your relationship status. I am about to show you how you can easily truly enjoy Valentine's Day with a little perspective shift.
First, let's consider how we look at Valentine's Day. Let's begin by thinking of holidays that are easy to enjoy.
For example, can you have a bad Cinco de Mayo celebration? Even if you don't celebrate this holiday, doesn't the thought of the kind of celebrations that happen on this day make you smirk? People having a good time, dancing, drinking, dressed in festive colorful costumes. A holiday like that can't be bad!
Or how about April 1st, April Fool's Day in the United States, and named by various other names all over the world. Have you ever fretted over the perfect April Fool's Day? Maybe over whether the joke you are about to spring on someone is funny enough, but that's about it.
Interestingly, both of these holidays have been commercialized, with cards and things to buy for them, but mostly their commercialization doesn't faze people.
What if Valentine's Day, then, was as easy to enjoy as Cinco de Mayo or April Fool's Day? What if the fact that there's an abundance of cards, flowers and chocolates for this day was a good thing, instead of a bad thing? It can be if you shift how you view it!
Think of Valentine's Day as a day to celebrate love with joy and fun. It's a day to feel good, to love yourself and others. It's a day to play in the romantic realm, or in the friend realm, or in the self-love realm, or even in the family realm – whatever you want!
Focus on Valentine's  Day as a day to indulge in good food, your senses and sweet words. It's a day to give and receive pleasure, whether to others or yourself. Drop all the other thoughts you have about it and you will immediately be ready to enjoy it more!
With this shift in perspective, you are now ready to look at how you can enjoy Valentine's Day regardless of your relationship status.
If you are in a relationship:
If you are in a relationship, old or new, doing well or not so well, can you think of what would bring your partner pleasure and joy that you can comfortably provide?
Then can you think of what will bring you pleasure and joy that he or she can comfortably provide?
The trick here will be to see your partner as different from you and to know that what pleases him or her is not always the same as for you.
Once you have a few ideas, have a conversation with your partner. Come up with mutual plans for most of Valentine's Day, such as dinner, entertainment, etc. Be sure to tell your partner what's on your pleasure and joy list and listen for hints for what's on his or hers.
When I was doing research for this article I read many discussions on Facebook about Valentine's Day. Inevitably the people in self-described happy relationships, both men and women, commented that a mutually-designed celebration was the best kind, so that both people can enjoy feeling special.
Once you both have a plan in place, do or get one thing – something special from his or her pleasure and joy list – to sweeten this time together. And then, mostly importantly, be present to the fun and joy of the experience you two are mutually creating.
If you are single, whether newly single, or having been single for a while:
Don't be sad and don't celebrate the S.A.D. day! And don't resent people in relationships. After all, you want to be one of them don't you? It's easier to get what others have if you wish them well, rather than begrudge them their happiness.
Instead, plan something fun in the evening of Valentine's Day with other singles. There are many singles events going on in your area and across the globe on Valentine's Day. Because of this, if you are looking for a mate, Valentine's Day is a great day to meet your new partner!
Spend the day of Valentine's Day treating yourself to things that please you, whether it is a special meal, an outing you have been wanting to do, or even an extra luxurious nap! Then go have fun with other singles in the evening, so that your Valentine's Day becomes an easy, joyful, fun celebration.
The trick to having an enjoyable Valentine's Day is to shift from thinking it must be a certain way to meet your own or others expectations. Instead think of it as a day dedicated to love, pleasure, and joy – to the indulgence of your senses and heart.
Now how great is it that we have a global holiday where we get to indulge in chocolates and sappiness?
[stextbox id="red_box"]
Having said all this, if being single or being in your relationship doesn't feel good, I can help.
Clients who work with me always find their way to meeting their right mate or improving their current relationship situation. You can too!
Get started by scheduling your Get Clarity 30-minute in person or by telephone Coaching Session and let's work together on creating the relationship you want!
[/stextbox]
"Image courtesy of samuiblue / FreeDigitalPhotos.net"