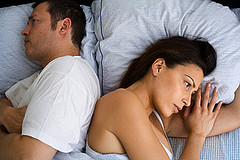 A psychological study done in 2008 found that sleep preserves emotionally charged events.
The study also found that not all parts of the event were preserved, but only those that were more like what the person tends to think and feel already, what the article calls Emotionally Resonant Events.
Here's what this means for couples:
If you are in a relationship where you already have a somewhat difficult time with your partner, and you have a fight shortly before bed, the two of you are likely to wake up feeling worse about each other. The period of sleep will preserve the negative feelings and likely drop out any attempts the two of you made to make up with each other.
If your relationship is on good footing and you have a fight before bed, chances are 50/50 that you will both wake up with the fight cleared from your mind, feeling good about each other. On the other hand, if one or both of you have been stressed or not getting along with each other for a day or two prior to the fight, you might end up waking up angry with each other.
This is why fights are best avoided at or near bedtime.
Of course this is easier said than done, as the bulk of most couples time together is in the evening. If there are issues to be dealt with, this is when they tend to come up and be discussed.
So what should you do if you need to talk to your partner about something important that might turn into a fight, and the only time you have together is at night?
Suggestions for men and women who are new to building their relationship skills:
1. If you have a fight at night, be sure to make up before you go to sleep
2. If at all possible, save important conversations for mornings or the weekend
3. If you feel frustrated or angry with your partner, get calm before you talk to him or her
4. If you must have a difficult or potentially angry conversation, start with talking about your hurt or sadness, not your anger.
Suggestions for men and women with advanced relationship skills:
1. Don't fight with your partner. Fighting is the toxic dumping of anger.
2. Instead, express how you feel and what you need. Ask your partner to do the same.
3. Seek  a mutually beneficial resolution and ask your partner to do the same.
4. Be thoughtful about when to have important conversations by examining what you want to achieve and when you are most likely to be able to create that result.
Relationships are no different from any other area of your life, meaning you can't just do what ever you want to do whenever you want to do it, and expect your relationship to work.
Protect your relationship and do everything possible to avoid fighting before bed!
[stextbox id="red_box"]Want to get advanced relationships skills and replace fighting with win-win conversations in your relationship?
Join me for a Get Clarity Coaching Session to develop advanced relationship skills and more![/stextbox]